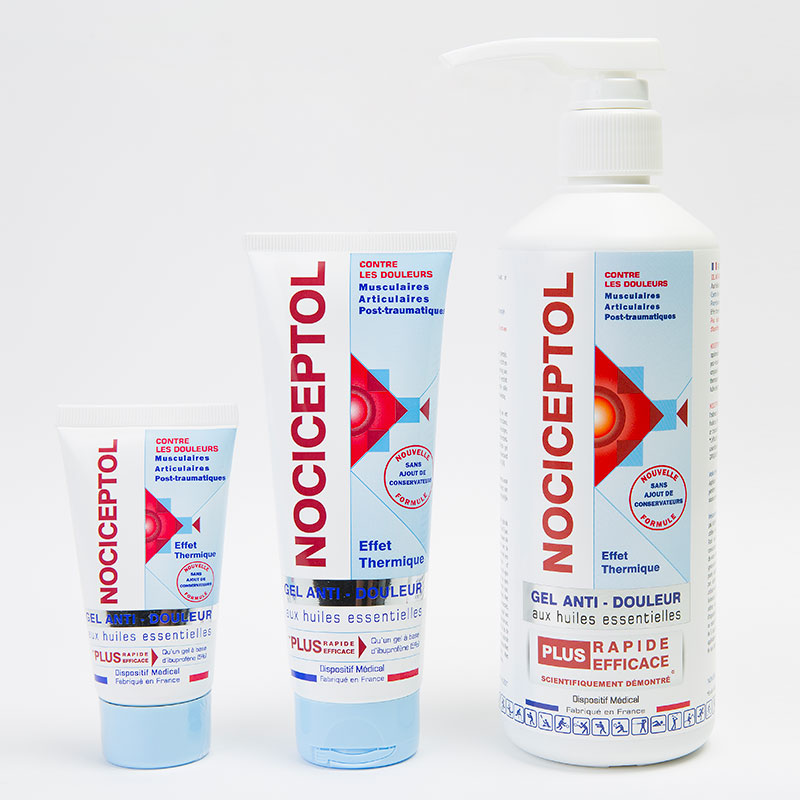 NOCICEPTOL® Pain Relieving Gel is a gel that calms and soothes post-traumatic joint and muscle pain through its combined heating and cooling action. The sensation of heat varies according to the user. Its effectiveness is enhanced by essential oils, which bring natural benefits.
PRESERVATIVE FREE FORMULA
Non-greasy – Does not stain – Non-sticky
The Pain Relieving Gel eases :
NOCICEPTOL Pain Relieving Gel® also reduces the spreading of oedema. It is thus indicated in the event of muscle spasm, sprains, muscle strain, bruising, pulled muscles, stretched ligaments and various traumas. The efficacy of the Pain Relieving Gel has been scientifically demonstrated in an in-vivo study (Ref I2POGADO2, November 2013)
ESSENTIALLY EFFECTIVE
Menthol – Camphor – Green Clay – Devil's Claw – Horsetail – Peppermint – Rosemary – Cajeput
NOCICEPTOL Pain Relieving Gel with essential oils is a CE marked medical device. Read the instructions carefully before use.
Further information can be found on www.nociceptol.fr